It's completely outrageous.
This so-called election "audit" happening in Arizona is an anti-democratic farce.
They've been doing whatever they're doing (?) for months now, pretending like this is some sort of legitimate recount.
The other night, on MSNBC, host Chris Hayes pointed out how long it's taking — particularly curious compared to the fact that when the vote is counted for real, it takes a few hours, maybe a day or two to get done.
As Arizona's Secretary of State, Katie Hobbs, put it, "You know who knows how to count ballots? Election officials."
Definitely not the "Cyber Ninjas" — whoever they are.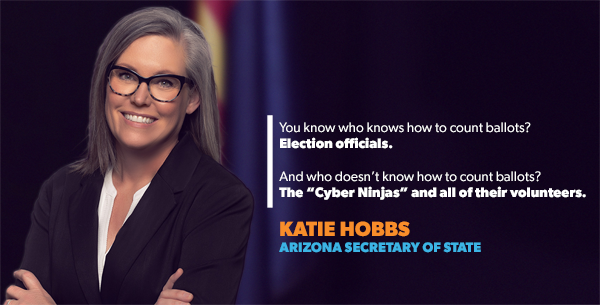 There are three things you need to know about Katie Hobbs:
Before she was ever an elected official, she was a social worker, serving her community.

Because she's defending the integrity of the election, she's been getting death threats and armed protestors have come to her home.

Katie Hobbs just announced that she's running for governor of Arizona.
Let's show her that we've got her back. Make a donation of $7 to Katie right now!
Donate Now
Let's get it done!
Brett
Brett Broesder
Executive Director
Democrats Serve